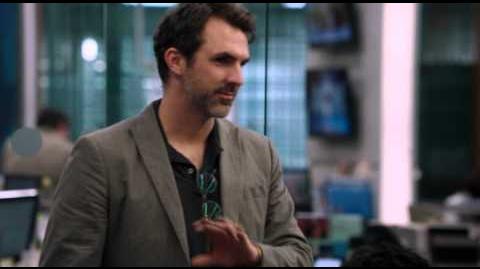 Last night's episode was the season's best because it opened up the closed-room airlessness of the show's premise by injecting some much-needed fictional drama to that of the drama of real-world events. Whereas in past weeks too much of the focus was on how Will and Mackenzie would cover the news, with a little will-they-or-won't-they sprinkled in because that's what Sorkin thinks audiences want, here the tension derived from not knowing what was going to happen.
The TMI storyline, intentionally and self-referentially parroting the News of the World scandal, may strain credulity, but that will be forgivable so long as it leads to more confrontations and conflicts like those that we saw last night. Scenes between Charlie and Leona have an extra kick because of the tremendous talents of Waterson and Fonda, but I also enjoyed seeing Will, Mackenzie, and Charlie get into a legitimate argument about the best way to do their jobs.
Also straining credulity while creating dramatic tension was Will's inexplicable decision to choose Mackenzie's ex-boyfriend to be the one to write a magazine profile about him and the new direction of the show, right as the show's new direction is being compromised by sinking ratings. It's the kind of thing that could actually make for a fascinating article, but the idea that Will wouldn't realize what a bad idea it really is makes it harder to take. Still, Paul Schneider brings a lot to the role with his low-key manner and air of competence.
It also helped matters that the real world seemed to play along with Sorkin's dramatic intent. It's extremely plausible that Mackenzie and the others would be side-tracked by the Casey Anthony trial and Anthony Weiner's scandal. Sorkin uses these distractions to score some of his easiest, but most important points against the way we are presented with information, while also using history as a backdrop for the drama at the network. It's an appealing formulation that, if continued, could represent a turning point for the show.
One thing that the show has done quietly, but nicely, is to expand the world of these characters in recent weeks. Terry Crews, David Krumholtz, Natalie Morales, and now Paul Schneider are all fantastic additions who could really contribute on a recurring basis. If things are looking grim inside the newsroom, they are decidedly looking up for The Newsroom.